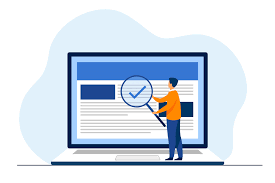 Digital Marketing Strategies that Law Firms can Adopt
For legal companies, Search Engine Optimization (SEO) is a practical marketing approach. What better method is there for locating clients than Google?Google receives most searches for attorneys and legal services than any other search engine. SEO enables law firms to rank well in search engine results and attract clients looking for their services. However, SEO does not only generate new clients. A law firm's SEO strategy is advantageous in these ways;
Paid Traffic
SEO increases the Google rating of a website and generates organic traffic. The objective is to rank well in Search and gradually generate organic visitors. Attorneys can improve their websites for the search terms people use to locate legal services. If you are a family lawyer, you may attempt to rank for phrases such as "family lawyer, "Effective organic unpaid marketing does not require a substantial advertising budget. You can use SEO or hire a professional to assist you. Check out this page for more info.
Enhancement of user experience
SEO is not just about pleasing the Google gods. You should provide users with the best website experience, content, and data. The Google algorithm ranks results that correspond to user queries.SEO increases user experience because it is a Google ranking factor. Speed, interactivity, and accessibility are essential for pleasing visitors and proving to Google that your site is optimized. Excellent user experience keeps visitors on your site longer and encourages them to "opt-in" to contact you instead of visiting your rival.
Site Speed
Google examines the Core Web Vitals of a website to determine if it is speedy and straightforward to use. In other words, it seeks to ensure that the content of your website does not take decades to load.
Slow website speed can discourage visitors. If your site is sluggish, visitors will go elsewhere. Typically, a slow website speed indicates "heavy" graphics and code that may fail to load when users interact with them. Effective SEO increases your website's Core Web Vitals, allowing you to provide visitors with a swift, user-friendly experience.
Better content marketing
SEO is content-driven. Your website's and blog's content attracts the appropriate audience, increases the site's authority, and does much more. When you consider SEO, you create better content for users and search engines. Better content ranks better in search results and gets shared more frequently. In addition, your published material often leads to employment.
Acquired Links and Authority
Backlinks links from other websites are votes of confidence that your website is beneficial, trustworthy, and informative. Every SEO technique focuses on acquiring authority-boosting links to convince Google that a website is credible. Earned credibility can boost search engine ranks. Additionally, links from other sites may drive visitors to yours. Blogging, content marketing, and outreach can generate backlinks for search engine optimization.
Visitor Referral
Referral traffic originates from external links. SEO can increase your site's referral traffic when other websites link to your content. In addition, as part of their local SEO strategy, most law firms publish their business information in local directories. These directories might supply your website with additional visits. Publishing expert-level content can entice other blogs and publications to feature you. Interviews, podcasts, and guest posts can create referral traffic.