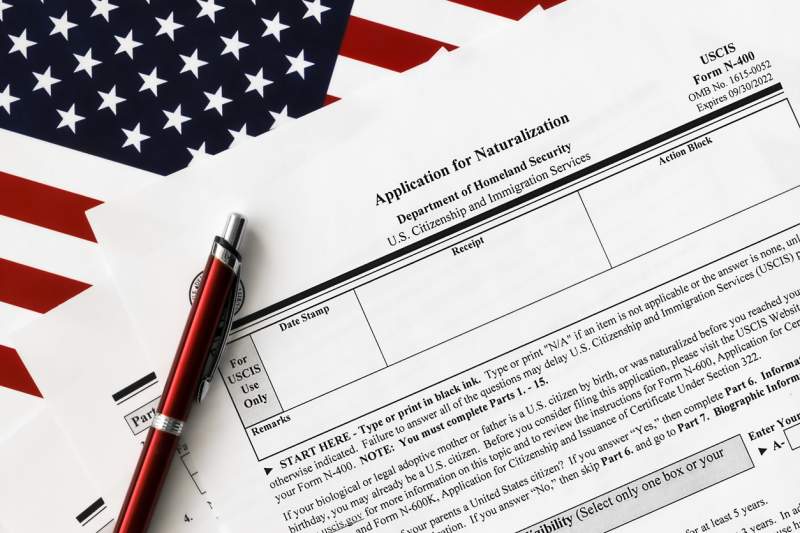 Green Card to U.S. Citizenship: Process, Requirements and Application Guide
You've lived in the United States with your green card (permanent residence) for a few years and are now considering taking the next step to become a naturalized U.S. citizen.
While a green card allows you to live and work in the U.S. permanently, citizenship offers additional rights and benefits. It allows you to vote, travel freely, and access certain government jobs. It also provides a greater sense of security and camaraderie by making you a full member of American society.
This guide will walk you through the naturalization process of transitioning from a green card holder to a U.S. citizen.
Overview of Green Card to Citizenship Process
Naturalization is the procedure through which lawful permanent residents of the United States can obtain citizenship. It involves meeting eligibility requirements, submitting an application, passing tests, and attending an interview and oath ceremony.
The main differences between a green card and citizenship:
Green card:

Allows you to live and work in the U.S. permanently, but you are not a citizen.

Citizenship:

Makes you a citizen with full rights and protections. You can vote, travel freely, and access certain jobs.
Here are some of the top reasons green card holders decide to naturalize:
Gain the right to vote in local, state, and national elections

Access federal jobs and benefits that require citizenship

Travel abroad without restrictions on length of stay

Provide security from deportation or loss of green card status

Show commitment to the United States

Pursue dual citizenship if eligible
Eligibility Requirements for Naturalization
To qualify for U.S. citizenship through naturalization, you must meet the following requirements:
Types of Green Cards That Qualify
You must have a Permanent Resident Card (green card) for at least five years (or three years if married to a U.S. citizen) to be eligible to apply for naturalization.
The following green cards qualify:
Family-based green cards

Employment-based green cards

Refugee or asylee green cards

Diversity Visa green cards

Special cases like military family green cards
Continuous Residence and Physical Presence
You must have continuously lived in the U.S. as a lawful permanent resident for:
At least five years prior to filing Form N-400 if you do not have a green card through marriage.

At least three years of continuous residence if you have a green card through marriage to a U.S. citizen.
You must also show physical presence in the U.S. for at least 30 months during the five years (or 18 months during the three years) before applying.
Certain absences from the country can affect eligibility if they are longer than six months.
Good Moral Character
You must be able to demonstrate good moral character during the 5 or 3-year period before applying. Certain criminal offenses can bar you from establishing good moral character.
English and Civics Tests
You must pass both the English language test and the U.S. civics test, covering history, government, symbols, and holidays. Exemptions are available for some elderly applicants.
How to Apply for Citizenship
If you meet all the eligibility requirements, you can complete and submit Form N-400 to apply for naturalization. The application process involves several steps:
1. Complete Form N-400
Download Form N-400 from the

USCIS website

or request a paper version by mail.

Fill out the application with your biographical details, residency history, employment history, family information, and background questions to establish eligibility.

Make sure to include details of any trips outside the U.S. as well as information on your spouse and children, even if they are not applying.

Double-check that all information provided is accurate before signing the form.
2. Gather Supporting Documents
In addition to the completed N-400 application, you will need to include supporting documentation such as:
Photocopy of both sides of your current green card

Photocopy of your valid state-issued ID, such as a driver's license or passport

Two recent identical passport-style photos

Tax transcripts or filings for the last five years, if required

Court dispositions for any arrests or charges

Sample of a written and signed declaration in English
Having an experienced family immigration lawyer review your documents and forms can help avoid mistakes or missing information.
3. Send in Your Application Package
Once you have completed Form N-400 and compiled all necessary supporting documents, you can submit the entire application package via mail to the USCIS lockbox facility. Make copies for your records.
USCIS will send you a receipt notice to confirm arrival and start processing.
4. Complete Biometrics Appointment
After receiving your application, USCIS will schedule and send you an appointment notice for biometrics. This includes:
Getting your fingerprints taken

Capturing your facial photo

Signing your name for electronic signature
It is essential to attend the biometrics appointment, as it allows the FBI to run background checks on you as part of your application process.
5. Attend Naturalization Interview
The next step is an interview with a USCIS officer at your local field office. The officer will:
Verify your application information

Test your English reading, writing, and speaking skills

Ask you questions about U.S. history and civics

Review any outstanding issues or concerns in your file
Use the time between filing and interview to study for the English and civics exams.
6. Attend Oath Ceremony
The final step is attending a naturalization ceremony to take the Oath of Allegiance. Here you will:
Turn in your green card

Take the oath to become a U.S. citizen

Receive your certificate of naturalization
In many places, the ceremony takes place on the same day as the interview. Then, you will become a citizen as soon as you take the oath!
Timeline and Costs
The total time to complete the naturalization process usually takes 6 to 12 months or longer.
It depends on processing times and how busy your field office is. The COVID-19 pandemic has also caused significant delays.
Here are the typical costs associated with naturalization:
USCIS Form N-400 fee: $725

Biometrics fee: $85

Attorney fees: $500 – $3000+

Required medical examination: $200 approx.
While attorney fees are not required, having legal guidance can ensure a smooth process.
Benefits of U.S. Citizenship
Here are some of the top benefits that come with naturalizing and becoming a U.S. citizen:
Voting Rights:

You can vote in federal, state, and local elections once naturalized.

Eligibility for Federal Jobs:

Many government jobs require U.S. citizenship, like FBI, postal service, and other federal agencies.

Travel Benefits:

You can get an American passport, and there are no restrictions on how long you can spend abroad.

Peace of Mind:

Naturalization provides added security and peace of mind. Your citizenship status is permanent and can never be denied or revoked without due process.

Dual Citizenship:

Naturalizing as a U.S. citizen may allow you to retain dual citizenship with your home country.
Next Steps If You Qualify for Citizenship
If you are ready to take the next step and become a fully integrated member of American society, reaching out to an immigration attorney is key. At the Law Office of Lina Baroudi in California, their immigration lawyers can evaluate your specific situation and guide you smoothly through the entire naturalization process.
They can walk through your options, ensure you understand the process, avoid pitfalls, and increase the likelihood of your citizenship application being approved.